By trusting Jeux Modul'Air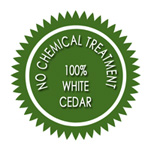 You choose quality, beauty and durability for a wooden swing set made from 100% white cedar, a swing set comes with your choice of accessories. Actually, you can choose from a wide range of accessories such as swing seat, wave slide, bucket seat, trapeze and more...
You will discover a beautiful wood, white cedar. A natural wood that needs absolutely no chemical or metal treatments. Wood treated with copper and chrome is very dangerous for children. Be well informed before buying a playset made of wood that has been protected against fungal growth and insects. Cedar is a wood that has natural control over these factors and its durability is undeniably excellent.
You select your own customized playset with your choice of accessories and colors. Your playset will grow along with your children because you have the possibility to add other components whenever you see fit.
You choose a hefty, stable and self-supporting playset. Thanks to our numerous 4" X 4" beams and corner braces, no anchoring to the ground is required. Also, parents can even use it while looking after their children.
You have the guaranty of a full, quick and courteous service. We can deliver your playset in a ready-to-assemble format or we can offer you a turnkey service. Then, the installation is done entirely by our Jeux Modul'air team. For us, the after-sale service is as important as the first contact!